Local North Queensland information for Local North Queenslanders.
Some species of bush tucker can be picked up from the tree and eaten without any processing…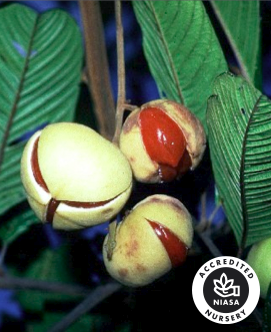 Basically, there are two types of bush tucker:
The species which you can pick from the tree and eat (and enjoy!) without any processing.
The varieties which are usually too sour to eat fresh, but which can be used to add real flavour when processed and use in gourmet dishes – this is the high quality product with commercial value.
1. Species Which can be Eaten Fresh:
Atherton Oak (Athertonia diversifolia)


This is related to the Macadamia Nut and like the Macadamia, it is the nut of the Athertonia which is edible. It is suitable for medium to high rainfall areas such as Malanda on the Tablelands or Innisfail on the coast.

Flacourtia sp. (Cape Plum)
This is a large shrub which produces masses of small black berries. The fruit are sweet enough to eat fresh when they are completely ripe. The best use for this species is in the making of jam. There are male and female plants of Flacourtia, so you will need at least three plants in the hope of getting one of each gender.
Pleiogynium timoriense (Burdekin Plum)
The Burdekin Plum has only a thin layer of flesh, but it is very tasty when completely ripe. To ripen it, pick the fruit when black then store them in a paper bag till they are soft, which usually takes about two weeks.

Syzygium malaccense (Pink Satinash)
The fruit of the Pink Satinash are one of the best eating fruit that we have in Australia. Being a medium to large tree, it will need to be pruned heavily in the first two years if the fruit are to be easily reached.
2. Species With the Most Commercial Potential but Need Processing:
Acronychia acidula (Lemon Aspen)
Lemon aspen is a small, bushy tree which is quite hardy. It is related to Citrus, but the fruit is quite different. The fruit of this species is already being harvested in large quantities and marketed to the restaurant trade.

Davidsonia pruriens (Davidson's Plum)
For a small tree, the Davidson's Plum produces huge quantities of fruit. Because the fruit is so sour, the flavour remains quite strong after processing. It has numerous uses, some of which are jam, jellies, sauce and wine.

Diploglottis (Tamarinds)
There are a number of Diploglottis species but two of the best are D. smithii (Smith's Tamarind) and D. bracteata (Boonjee Tamarind) which both produce large volumes of fruit, although D. bracteata is only suitable for high rainfall areas. As well as the same uses as Davidsonia, the Diploglottis fruit can also be made into refreshing drinks.
---
A number of the Lilly-pillies (Syzygiums) produce useful fruit, which are perfect for making jams and jellies.
A few of these are:
Syzygium erythrocalyx (Johnstone River Apple)
This species is suitable for high rainfall areas of north Queensland. It has large, soft leaves and must be protected from harsh winds. Huge quantities of fruit are produced by this species. The fruit are very large and are more than 50% flesh.
Syzygium fibrosum (Fibrous Satinash)
This is a large shrub or small tree which produces good volumes of fruit for its size. As most of the fruit have no seed almost the lot is useable.
Syzygium luehmannii (Cherry Satinash)
This species is already being harvested for commercial purposes. The fruit is marketed as "Riberry".
Syzygium aqueum (Native Water Cherry)
This is the very rare variety of native water cherry from Cape York Peninsula. It is a medium to large shrub, and produces masses of highly decorative, delicious red fruit in summer.